Basque Gastronomy Tour with Chef José Pizarro
A couple of years back now, Spanish chef José Pizarro decided to write a book about the gastronomy of the Basque region. Fast forward to Autumn 2018 and the book was made into a tour!
Our 7 guests discovered the gastronomy of the Basque Country on a four night tour. Visits to small farms and producers, tastings of  indigenous varieties, sampling great wines, dining like locals, and learning the best of what this country has to offer. All under Jose's guidance in a series of dedicated cookery courses and visits.
Pizarro in Bilbao
Principal city of the Basque Country, the formerly polluted, industrial and conflictive city has shed its grimy and rusty coating and transformed itself into a shiny, cosmopolitan, modern, dynamic metropolis. Busy, dense, and diverse, the city is now home to the world-famous Guggenheim Bilbao. Boasting the largest indoor covered food market in Europe, dining is never far from you here. Excellent pintxos, bars, restaurants and a lively old quarter, ensure that you will have no time to stand still.
Pintxos are a classic here, the idea being to have a drink and a pintxo in one establishment and then move on. The number of bars means you are never short of options. We took advantage of a busy Thursday evening to discover this tradition and ended up sampling gildas, jamon, croquetas, asparagus, spider crab, salt cod, txakoli, cider, crianzas and a few local beers too! A great way to break the ice and for José to set the scene for the next 4 days….
Indigenous varieties
A day dedicated to discover the other Basque Country, the province of Alava. Much less visited than its two coastal neighbours of Bizkaia and Gipuzkoa, but more steeped in history and a variety of produce one wouldn't perhaps expect.
Salt is an often forgotten, sometimes maligned yet absolutely fundamental element when it comes to gastronomy. Our day started at a truly remarkable place, Salinas de Añana. For thousands of years salt has been extracted from this hidden spot close to Vitoria, an hour's drive from Bilbao. Learning about and sampling this base resource was fascinating. We had a super informative private tour of the whole extraction and processing area, its history literally springing out from the ground. Salt tasting isn't something many folk have done, but here, we learned so much about its chemical make-up, texture, flavour and uses. A perfect start to a gastronomic tour I would say.
Txakoli!
Back to the 21st Century, and we visited the modern and innovative wine-maker Astobiza to sample what is only found here in the Basque Country, Txakoli. The drizzle didn't deter us and we learned from the owner Jon and the husband and wife team of Bittor and Lorena all about this minerally, fresh wine before retiring to the superb on-site kitchen… Here, aprons on we commenced our classes. Assisted ably by Jon and the team, we all created pintxos under José's expert eye. His friendly way, was so helpful, and his infectious attitude and care made even the less experienced of those among us really comfortable. Gildas, squid, roasted peppers, black pudding, gernika peppers, were all made easily by all of us together. The txakoli helped as well as you can imagine!!
Next visit was to discover another of the Basque Country's most famous exports, that of Idiazabal Cheese. One of the three 'Denominacion de Origen' products seen today, Leire Ibarrola and her family have won international prizes for the family-made produce Izoria Cheese and Honey and they opened their doors for us to learn about, taste and enjoy this very Basque cheese. It was not only cheese here however, as Leire, who is such a great character, took us on a gastronomic trip of the area with some surprises! Our bus driver Javi also enjoyed chatting to Leire's Mum! 😉 The roasted lamb served up straight out of the brick oven will not be forgotten quickly either I can assure you!
Back in Bilbao and we managed to get a few Gin 'n' Tonics in us before we called it a day at the truly great Hotel Miro, Basque Experiences' favourite hotel in all of Bilbao…
Provenance
Heading east along the coast on Friday morning, we made a made a visit to the small fishing village of Getaria. Famous for whaling and ship-building in the middle-ages, this maritime culture is reflected in its cuisine and society. Our first visit took us to Ezkurtxerri, a family run pig farm run by Agurtxane and her Dad, Patxi. Learning about the indigenous Basque pig (massive floppy ears) its meat and the processes used to make some of the tastiest sausages, chorizos, black puddings etc and all km 0 and organic, got the juices going. Tasting was superb, the flavours were great, they jumped out in the mouth! Thanks guys!!
Just around the corner (after about 45 bends in the road) we stopped for another informative visit with Jaime of Aroa, a small rare-variety vegetable producer. Sampling his exotic flowers, leaves and of course the famous tear-shaped peas was an eye-opener for all of us!
Lunch was meant to be short affair… But with José onboard the plans adapt!! We stopped by the fabulous restaurant Elkano in the heart of Getaria… The owner Aitor an old friend of José Pizarro was so pleased by our surprise visit that he gave us the best seats on the terrace and proceeded to serve up some of the finest fish you will eat anywhere in the world…. It takes weeks to get a reservation here normally… Such a great surprise for all of us, and believe me, the Turbot is simply the best I have tried after many years of tasting!!!! Thanks again José Pizarro!!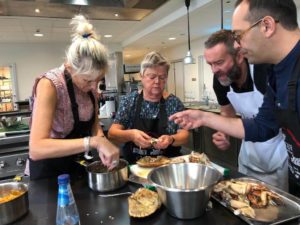 Donostia/San Sebastián
After such a great lunch, our planned 'rest-time' vanished! so after arriving at the unique Hotel Villa Soro we freshened up and made the walk along past Zurriola beach towards the old town and the Sociedad Gastronomica La Artesana. Over 150 years old , with members including artists, writers, politicians and the odd famous chef, our friend Txuno treated us to a course in traditional Basque cooking in this private dining club. Aprons on with José Pizarro and we were making Hake throats and clams in green sauce, roasted cod, asparagus, grilled languostines…. and txakoli!! Dessert was a surprise as we weren't expecting one of our group to strike up a conversation with one of the locals who happily donated half their tart to us! A home-made Pantxineta, and the local turned out to be the owner of the oldest patisserie in town… you can't imagine how good it was!!
Such a feast needed a digestif so we headed into the old town for some entertainment…. The Whiskeria in Donostia has never seen the likes…. and what goes on on tour, stays on tour 😉
José Pizarro Cooking Masterclass
San Sebastián, is without doubt one of the gastronomic capitals of the world. Compact, charming and aristocratic, this city, hemmed in by mountains and beaches was our base for two nights. A rich history comprising elements of Basque, Spanish and French cultures has enabled this city to develop a very unique culinary profile. Internationally famous for its array of Michelin Star restaurants, it is the local culture which is held up by many as the reason for this success. Abundant local produce, a former summer resort for the French and Spanish aristocracy and the competitive nature of the Basques ensures that procuring, preparing and dining well are always high on the list here.
Saturday morning after a serious(ly-needed)  breakfast, we met with Imanol from the Basque Culinary Center at the Mercado de San Martín in San Sebastián, the venue where the serious chefs source their produce.
The Basque Culinary Center is a world-leading Faculty of Gastronomic Science, the first in Spain and the second in Europe, part of Mondragon University here in the Basque Country. It is also an internationally acclaimed Research and Innovation Centre in the field of Food and Gastronomy founded by the Basque Government alongside the Basque Chefs; Arzak, Berasategui, Subijana, Aduriz and Atxa among others. The Basque Culinary Center also has an International Advisory Committee, chaired by Ferran Adrià  and made up of some prominent international chefs including; Yukio Hattori, Massimo Bottura, Michel Bras, Dan Barber, Heston Blumenthal and René Redzepi.
The market saw us select some of the day's best produce; squid cleaned in front of us, red zalla onions, tiny carrots, lettuce, green peppers, parsley, all from smallholders. Amazing fresh Boletus Edulis (cep mushrooms), live spider crabs, even special bread for thickening stocks and sauces!
Aprons on!
Up to the fantastic kitchens where we had world-class facilities and our own bespoke cookery course in our own private lecture theatre/kitchen.  José Pizarro and Imanol personally gave one-to-one instruction throughout the day's course. We prepared a beautiful San Sebastián style freshly dressed spider crab salad, the very typical Basque dish of baby squid cooked in a black ink sauce, and firm wild mushrooms with a slow-cooked egg and jamon… and for dessert we ourselves made Pantxineta from scratch (instead of 'borrowing' it)
All this learning and and tasting and preparing is thirsty work, as I am sure you will agree. So, to help us re-hydrate we invited Mikel from the superb Bodegas Gomez Cruzado to assist. Mikel selected 4 of their Rioja Alta wines; Blanco 2016, Honorable 2014, Pancrudo 2016 and Reserva 2011 the tasting notes are available on their website.
Six O'clock and we headed back to the old town to go over the great day's class and to sample some more of Donostia's early evening social scene.. A great day!
Guggenheim and a 3*
Our final day in the Basque Country saw us visit two world famous destinations; The Guggenheim Bilbao and Azurmendi restaurant.
The Guggenheim Bilbao Museum, famous the world over for its ground-breaking architectural design is an icon for us 'Bilbainos'. Our final morning saw us expertly guided by Susana, our own English-speaking art expert who introduced us to the permanent and temporary exhibits of the Guggenheim Foundation collection. Busy as it was she really shed light on the simple amazing Joana Vasconcelos exhibition and the Serra permanent exhibits.
Azurmendi is a short drive from Bilbao city centre and our visit to the restaurant, accompanied by José Pizarro and one of the Azurmendi staff, saw us embark upon a behind-the-scenes look at the kitchens, the allotments, and the 'research and development' being undertaken here. It was a real eye-opener for us to see the amount of work, and staff, that were present, and so young!
Lunch though was the star… A huge round table for our group, looking out over the green hills of Bizkaia set the scene. The 2018 Autumn menu had just been presented the day before so we were some of the first to try the incredible menu. The Welcome Picnic, 4 delicate morsels: Dry asparagus, smoked fish brioche, tartar of iberico, and hibiscus. The Kitchen where we were able to taste the truffled egg and a unique vermouth. The greenhouse: Fermented apple, spices cornetto, herb quark and kaipiritxa.. All simply incredible and no words can really do them justice!
Menu
Seated now and we were treated to:
Mushroom praline,/beans/limon grass/sea txakoli.
Oyster, essence of herbs and fino.
Shrimp, vegetable juice and frozen old tomato.
Sea Urchin, emulsion, air, fritter and caviar.
Roasted and peeled lobster, juice coffee butter and purple onion from Zalla.
Garlic soup.
Red Mullet in 2 services: Flame roasted red mullet and grilled red mullet, red pepper juice on charcoal and parsley.
Iberian Pork castañeta, Idiazabal cheese bonbon and shaken mushroom broth.
Stewed piglet tail and anchovies from Bermeo….
Not finshed yet, we had dessert to follow!!!
Avocado and Mango.
Yoghurt honey and five spice.
Black olives, sheep's milk and cocoa.
Wow…. Its was unique. A truly magnificent with an autumnal feel and colour running through the whole menu. The blog will never do it justice and as I am not a fan of taking photos of food on the plate, there is no photographic evidence.. But who needs it!! We all loved it, so much so we stayed too long and nearly missed our flights!!!!
2021 Pizarro Tour
I think, know we all had an amazing time. José Pizarro was a star, he really made the whole trip into something superb. His enthusiasm, passion and knowledge was perfect and so infectious. He really put his all into the tour, and was really more like one of us!
We met up in José Pizarro restaurant in early November, another great meal, a chance to laugh about our 5 days together, and to put the wheels in motion for a repeat tour in 2021!!
Watch this space as they say!!!
http://www.basqueexperiences.com/contact-3/
http://www.basqueexperiences.com/basque-tours/