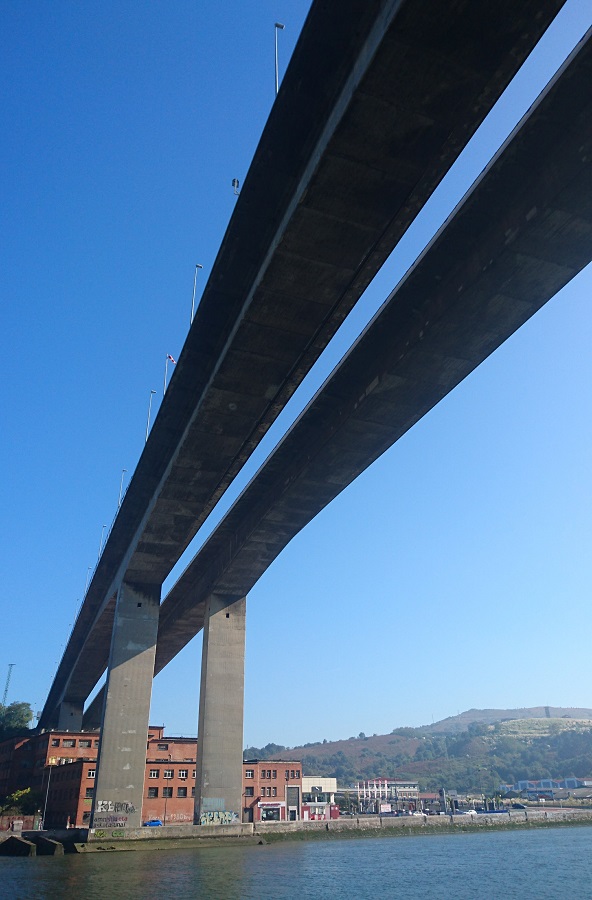 Bilbao and the river…
Bilbao is a city that needs it's river. Without this small river flowing through the green valley, the city we know would not be what it is today
It all started in 1300 when Bilbao was given 'town' status by the Lord of Bizkaia, Don Diego Lopez de Haro. He needed a port to export castilian merino wool to northern Europe and ever since the history of Bilbao and the river has been entwined.
Together they have seen war, trade, shipbuilding, mining, industrialisation, wealth, immigration, decline, and eventually regeneration. An awful lot for what is a pretty nondescript small river that flows for some 50km into the Bay of Biscay.
Walk to Bilbao
All this history can be seen, felt, smelled and absorbed by walking along the riverbank. An open, living book passing mediaeval ruins, steel works, furnaces, working suburbs, shipyards, abandoned lots, bridges and redeveloped barrios.
Starting at the UNESCO listed Bridge of Bizkaia, the only Industrial monument on its list in Spain,  we stroll along the riverbank suburbs that form the city. Through Portugalete and into Sestao, a tough town where there is still much deprivation. Onto Barakaldo, a big town in itself  with functioning shipyards, abandoned warehouses and huge cranes. Past Lutxana and Burtzeña both almost forgotten about barrios. Past Zorroza and along the bank past Olabeaga before you reach what was the port  in the 19th and 20th centuries. Now you stand at the heart of the urban regeneration so successfully undertaken and where the Guggenheim and the Euskalduna Palace stand.
Pintxos and Basque Food
This is a great walk, which with stops for drinks and snacks could take from between 2 -4 hours. On surfaced roads and paths, all you need is your camera and an idea of where to go! Its another of the walks and hikes we at Basque Experiences love. Different, off the beaten track, and a chance to see and learn about the Basque Country on foot. Get your timing right and we will be on time for a few of those famous pintxos!! So get in touch with us regarding your Tour of the Basque Country and combine it with some trips with us to discover our famous Basque Cuisine and Basque Food…..
On a sunny day the pics are great!!