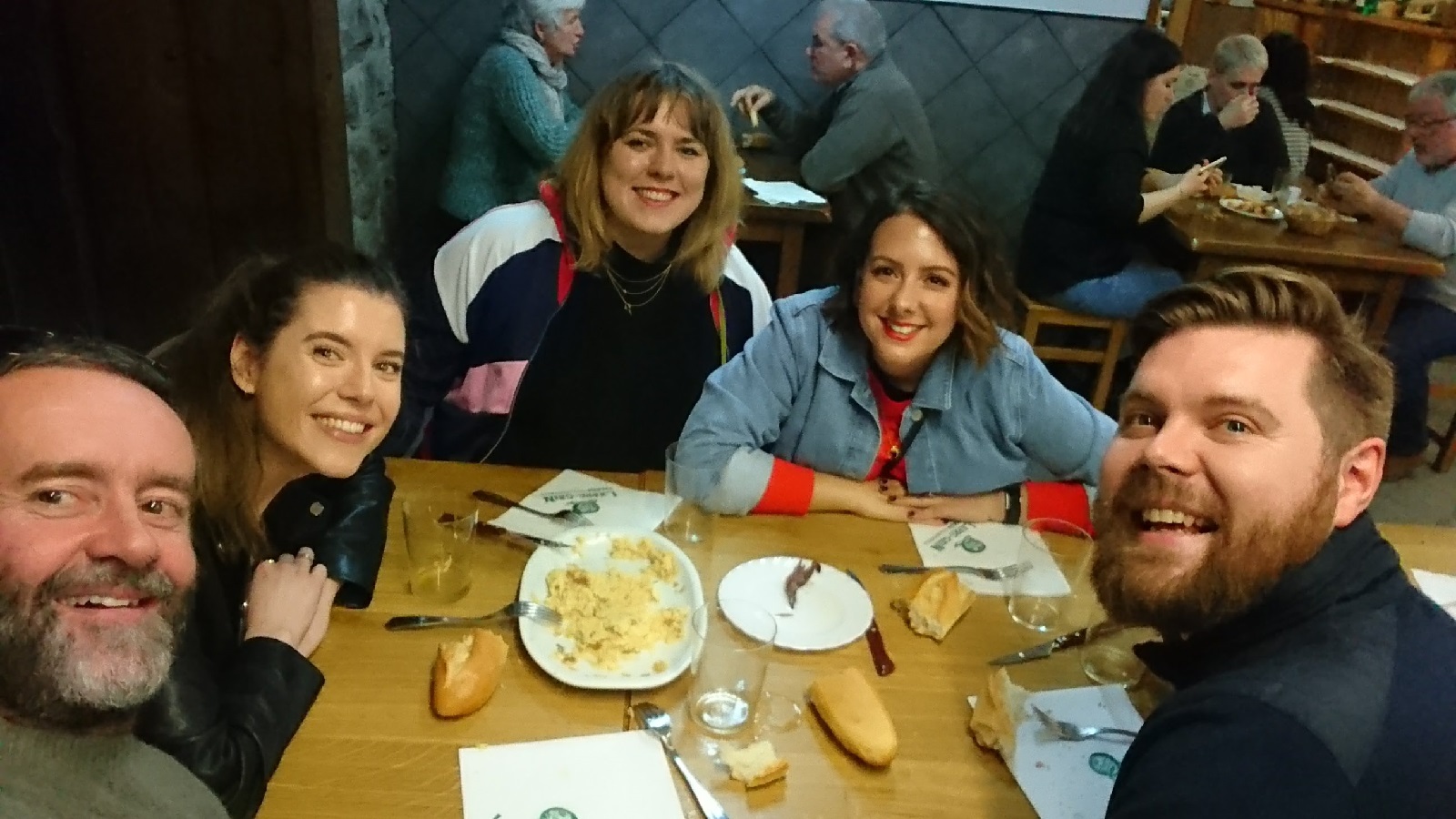 Basque Cider House
Any self-respecting trip to Donostia/San Sebastián has to include a visit to a Sagardotegi – A Basque Cider House. Traditional houses, dotted all over the hills in the hinterland around San Sebastián open their doors in spring. An invitation for foodie folk to come and enjoy the splendid results from the winter's fermentation!
Cider
The autumn and winter months allow the juices of last season's apples to ferment gently. Tanks and Chestnut tuns are used to create this heady brew. Popular for centuries by Basque sailors, its ant-scurvy properties enabled long voyages… Newfoundland, its whales and banks of cod were a mere row across the ocean! The result is a scrumpy-like concoction, full of acids and green flavours. Sour and sweet, fizzy yet flat…. There are many types and commercialisation has not pervaded into the production in the vast majority of thee family-run enterprises. Some now open all-year round, but we at Basque Experiences prefer the local ones. Family-run, friendly, smiles all-round and that warm welcoming feeling, and way better food & service than some of the larger ones!
Larre-gain is a family-run business, located way up in the hills behind Hernani. With views of San Sebastian and the stunning Aiako Herria Natural Park, the location is spectacular. Small scale like I said but well respected! Guardian top 10 Cider Houses say so!
The menu; Salt-cod omelette, Fried Salt Cod, Bone-in steak and walnuts & cheese is classic. Quantities are always perfect, but the quality, and my fellow steak experts were speechless, was 10/10. The steak was superb we have to say! Check the pics! Many samples of cider later and we were part of the crowd! Serving the Cider from the barrels like we were born with apples trees coming out of our ears! What a great laugh!
San Sebastian
Staying for a weekend in one of the small hostels or great hotels in this great town is a perfect city break. Even Bilbao, the larger brother to San Sebastián is only an hour by bus (c.16€) and gives another angle to the Basque Country with more nightlife and variety. Wherever you stay though, the Sagardotegi is a must! As is the Gin 'n' Tonic we are so famous for as a digestif!! See you here soon! TXOTX!!!!